NOTICE : The Money Museum is closed for a major renovation and will be re-opened to the public in 2018.
The Money Museum was opened to the public in December 2004.  It was created to add to the educational resources of the country by providing an alternative learning experience for students and the wider community.
The Museum's permanent exhibition features displays on the history of money, history of Trinidad and Tobago money and on the role of the Central Bank.
A look at the History of Money

What is Money?
The history of money is a fascinating subject. Over the centuries, one can trace the evolution of different kinds of "money" that were used in various countries around the world. Before notes and coins, bartering constituted the main medium of exchange and items such as salt, sea shells and even cows were used as money.

The Birth of Paper Money
The first paper money was made in the period 600–1000 A.D. during the T'ang and Sung dynasties in China (see image below). Since coins were too heavy to take along, merchants often issued receipts to the value of the coins left in their possession. These receipts were the earliest form of paper currency.

Ming Dynasty Banknote
The Ming Dynasty banknote is larger than modern paper money being the size of a standard A4 page of paper.  The Chinese characters printed on the note indicate the value of the note as "one guan" depicted as 10 "strings" of Chinese copper coins grouped together with a string through the hole in each coin.
The first notes of Trinidad and Tobago were issued after the colonial Government passed the Currency Notes Ordinance in 1905 following which the Board of Commissioners of Currency (BCC) was formed with the responsibility of issuing banknotes up untill 1934.  The Government Currency Authority (GCA) assumed responsibility in 1935 and issued their first suite of notes which included $1, $2, $5, $10, $20 and $100 notes.  These notes were printed and issued until 1949.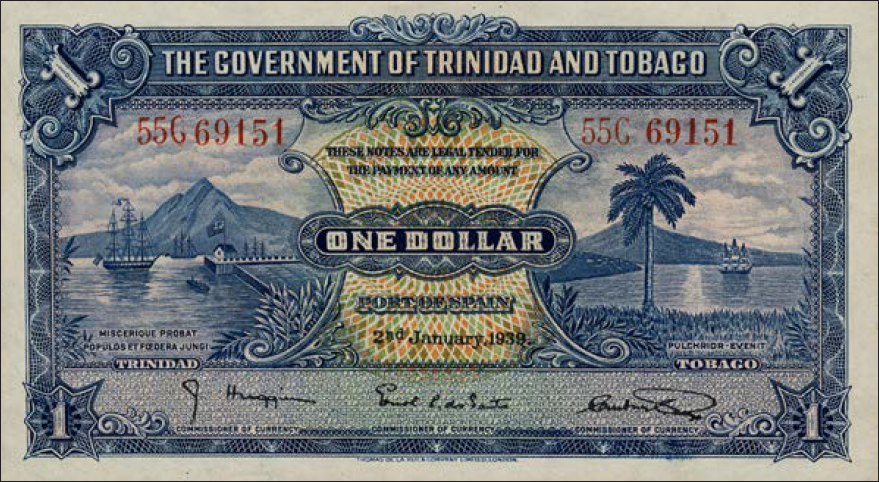 A colonial Government of Trinidad and Tobago $1 note measuring 152mm x 82mm, printed in 1939


How Banknotes are Made Today
Banknotes are actually made from processed cotton fibers. Polymer, a type of plastic, is also used to make banknotes. The ingredients used for the ink of banknotes are kept secret. The design of banknotes must be very difficult to copy and, therefore, contains complicated patterns, watermarks and holograms to prevent forgeries.
The Birth of the Coin
Some of the earliest known coins were forged in the shape of cowrie(see image below), knives and spades, and originated in China circa 1,000 – 500 BCE. Metal currency would later spread from China throughout South East Asia. In India, coins were made from weighted pieces of silver. The Greek, as well as Lydian people, who lived in modern-day Turkey, were among the first Europeans to forge coins, some 2,600 years ago. Their coins were made of nuggets of silver and gold called "electrum". Culturally and socially recognizable impressions were stamped on the metal discs as a form of identification.

 




Cowrie Shells
Before the introduction of metal coins, cowrie shells were used widely as instruments of trade.  This form of organic currency circulated mainly in Asia, Africa, Oceania and in certain parts of Europe.
Cowrie shells were very economical to use as they were harvested from natural sources, as opposed to being man-made.  Cowrie shells also had many of the characteristics of contemporary money: they were durable enough to be handled over a relatively long period of time without wearing; they were light, making them easy to transport and were also impossible to forge.




Kissi Pennies
"Kissi money" or "Kissi penny" was introduced at the end of the 19th century by the Kissi, Loma and Bandi peoples living in the border regions of modern-day Liberia, Sierra Leone and Guinea.
Kissi  money was first "minted" around the 1880's by indigenous metallurgists/blacksmiths who shaped smelted rich iron ore into a twisted rod with a flatten hoe-like spatula at one end and a sharpened "T" at the other.  Varying in lengths from 9 inches to over 15 inches, the longer penny represented a higher value.
How Coins are Made Today
Coins come in many different shapes and sizes. For example, in the Pacic,the Cook Islands have a triangular coin while the Solomon Islands have a 12-sided coin. Most coins are made from an alloy of copper and nickel called "cupronickel". The process of making coins is called "minting". In this process, discs are stamped out from very large, rolled sheets of metal alloys. These discs which are called "blanks", are then pressed between two hardened metal surfaces known as "dies". These dies carry the design in reverse so that they can be pressed into the metal that makes the coin. Today, an electronically powered machine produces the "pressing dies".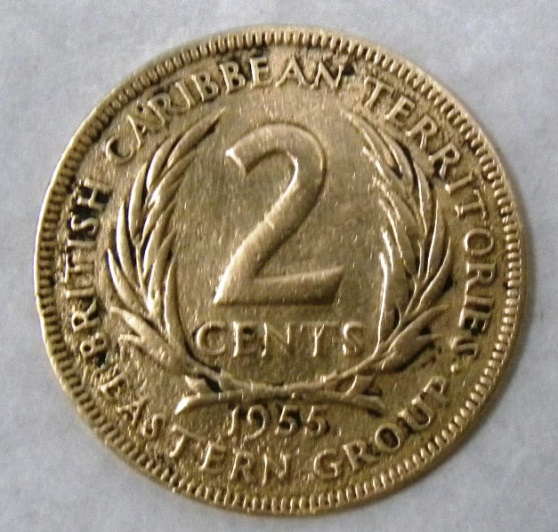 British Caribbean Territories Eastern Group 2 cents bronze coin minted in 1955

Our Location
The Central Bank Money Museum
Ground Floor
Central Bank of Trinidad and Tobago
St. Vincent Street
Port of Spain
Tel: (868) 621-CBTT(2288) or 235 - CBTT (2288) ext. 2151 or 2400
Opening times
The Museum is open to the public every week from Tuesday to Friday.  Two tours are usually conducted daily at 9:30 a.m. and 1:30 p.m.  However, the Bank is very flexible with respect to scheduling times for tours.  Tour groups are usually limited to 30 persons but special arrangements are made for school groups regarding group size.  Tours last approximately 1 ½ hours.

Admission is free