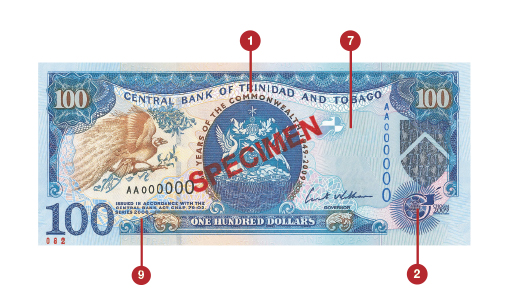 Reverse
Scene: Marine Oil Platform


Key Security Features
Text around the Coat of Arms - On the commemorative issues, the following words are inserted: "60 years of the Commonwealth 1949-2009. "
CHOGM logo in single colour.
CHOGM logo in full colour.
Carnival Sun image at the top of the note.
The Port of Spain International Waterfront Centre and the view of the city of Port of Spain in the background.
The Oil Rig scene has been shifted slightly to the right of the note.
Larger $100 numeral at the top right of the note.
ONE HUNDRED DOLLARS in words at the bottom of the note.
Series Date – 2006.
All other security features remain the same as on the current $100 note in circulation.