Front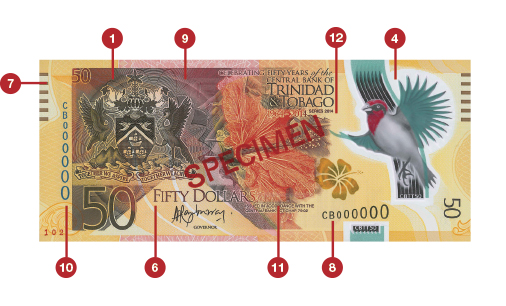 Reverse
Scene: Carnival Masquerader

Trinidad and Tobago Coat of Arms – This national symbol is larger than in previous notes and it is positioned at the left side of the front of the note to prevent it from being creased when the note is folded.
Carnival Image ­– Children's carnival masquerader
Transparent Window – This clear window can be seen around the image of a Red-capped Cardinal bird. It is visible on both sides of the note.
Print Mark – This features an image of the Red-capped Cardinal bird.
Green/Blue Iridescent Feature – The wings of the Red-capped Cardinal change colour from green to blue as the note is tilted.
Microtext panel – The number "50" is printed here. This feature is visible only under a magnifier.
Tactile Bars – 6 tactile bars down the sides of the banknote to help the visually impaired to feel which denomination they are holding.
Spark® Orbital™  – This small gold-green iridescent hibiscus flower changes colour as you move the note around. There is also a bright ring around the centre of the flower that moves as the note is tilted.
Gemini™ feature – This is visible only under black or UV light.
Blue Vertical Numbering ­­­­– Both serial numbers have progressively larger digits. 
Machine-readable block of text reading "50" - There are two of these text blocks on the $50 note.
Series Date - 2014.
         Polymer $50
         Security Features of our Polymer $50
         How to handle your Polymer $50 Banknote
         6 Reasons to love your Polymer $50 Banknote         
         We Won
         Frequently Asked Questions on the Polymer $50 Banknote