Management Team

Executive
Executive Management comprises the Governor, one Deputy Governor and the Inspector of Financial Institutions. The Executive Management provides leadership for the development of strategic direction and relationships and succession planning for the Bank. In addition, the core technical functions of the Bank fall under the responsibility of each of the Deputy Governors and the Inspector.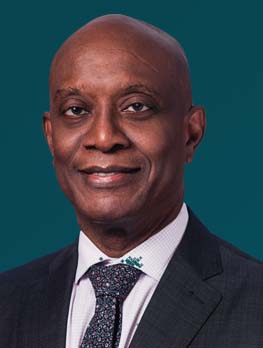 Dr. Alvin Hilaire

Governor and Chairman of the Board of Directors

Profile
Dr. Hilaire is a career Central Banker, having worked with CBTT for a cumulative   period of approximately twenty (20) years, holding positions of Senior Economist,   Chief Economist and Director of Research and most recently, Deputy Governor since   April 2013.  Dr. Hilaire has extensive experience in macroeconomic policy   development and implementation and monetary policy matters.
Dr. Dorian Noel
Deputy Governor, Monetary Operations and Policy

Mr. Patrick Solomon
Inspector of Financial Institutions
Senior Managers
The Executive Management is supported by the Senior Managers team which oversees the daily activities of the Bank and assists with the developing of policy, systems and controls to govern its operations.
The current incumbents at the Senior Manager level are:
 

 

 

 

Mrs. Arvinder Bharath
Senior Manager, Financial Technology & Information Security

Ms. Marie Borely
Chief Financial Officer

Ms. Nicole Chapman
Senior Manager, Legal, Contract & Corporate Secretariat Services

 

 

Mr. Gregory Camejo
Senior Manager, Corporate, Strategic & Project Services

Mr. Terrence Clarke
Senior Manager, Macroeconomics/Finance 

Mrs. Nicole Crooks
Senior Manager, Human Resources, Industrial & External Relations

 

 
 

Mrs. Michelle Francis-Pantor
Deputy Inspector, Banks, Non-Banks & Payment Systems Oversight

Mr. Alister Noel
Senior Manager, Operations