The Central Bank of Trinidad and Tobago began a phased transition to polymer banknotes in December 2019, with the introduction of the polymer $100 note and the demonetization of the paper based (cotton) $100 note as at April 1, 2020, as part of a major national security exercise. The introduction of the $5, $10 and $20 notes on November 02, 2020, marked the second phase of the transition. This continued with the introduction of the $1 and $50 polymer notes on February 15, 2021.
The final phase of the transition to polymer notes, was announced in June 2021 with the planned demonetisation of notes in the denominations $1, $5, $10, $20 and $50 bearing series dates prior to 2020, with effect from January 01, 2022. The redemption of these notes will be facilitated indefinitely at the Central Bank.
The Bank is pleased to make this transition to banknotes made of polymer substrate which are more durable, have strong security features and more defined tactile (raised dots) features to help the visually impaired.
Some of the enhanced features of the polymer notes are shown below: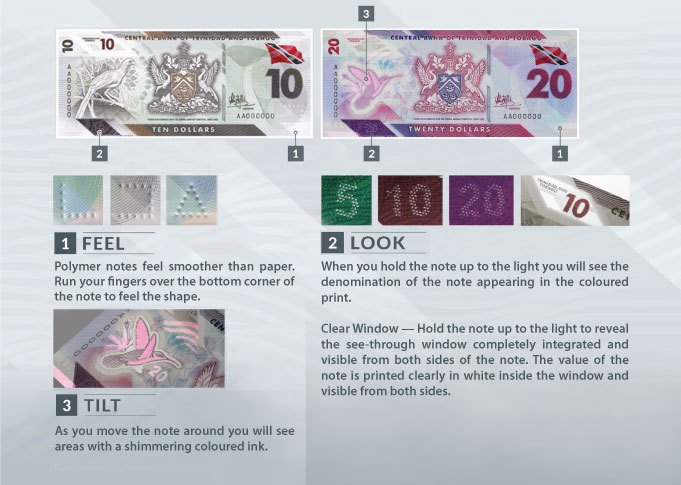 Security Features

Public Notices
Introduction of $1 and Updated $50 Polymer Notes
Introduction of the New Polymer $5, $10 and $20 Notes
Introduction of the Polymer $100 Note
 

For more information on the Introduction of the New Polymer Notes, visit the following pages:
 
Know Your Money Session - Introduction of the New Polymer $5, $10 and $20 Notes - Video - October 30, 2020
Media Briefing - Introduction of the New Polymer $5, $10 and $20 Notes - Video - October 26, 2020
Security Features of the $5, $10 and $20 Notes - Video


Follow us on social media for updates: