The Central Bank Museum is pleased to launch the second installation of the Life is a Celebration virtual exhibition.

On February 15, 2021, we launched the first installation which featured works of art from the Bank's permanent collection; this gallery can still be viewed on our website here. It featured the work of several local artists who used various media and styles to express the theme of celebration. Some of the events highlighted in that selection of work were Hosay, Carnival, Kartik and activities such as bele dancing, steelpan playing and limbo dancing.

For the current showcase, we are featuring work by artists from across Trinidad and Tobago.. The response was truly amazing and we appreciate all the creatives who took the time to submit work and to be part of our
show.

Enter this virtual gallery and view works from all 49 of our talented artists. We know that nothing beats seeing works of art in person; however, given the current situation that we face, we felt it important to keep our programming going and to continue to facilitate access and dialogue between the artist, the public and our institution.

We hope you enjoy!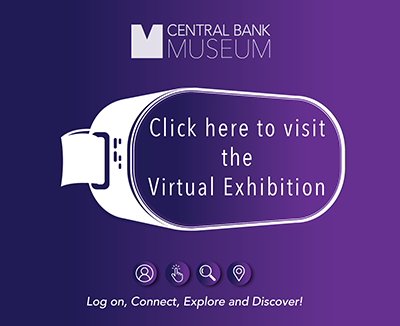 The Central Bank of Trinidad and Tobago is pleased to announce the launch of a virtual tour of our Museum.
On May 18th each year, the world celebrates International Museum Day. This year's theme is "The Future of Museums: Recover and Reimagine." We, therefore, chose this important day in the international cultural calendar to launch our virtual tour which has been several months in the making.
The tour takes our virtual visitors to various locations in the Museum and highlights important information related to our permanent exhibits.
The Museum has been physically closed to the public since March 16, 2020. However, our staff has been hard at work preparing virtual programming, like this tour, that has allowed us to keep in touch with our audiences—students, teachers and the public—and attract new ones.
The tour is easy to navigate and can be viewed on your mobile device as well as your desktop or laptop computer. However, we do recommend using your desktop or laptop for the best user experience.
We encourage you to experience the tour and share it with others.
Thank you for your continued support of the Central Bank Museum's activities.
Log on, Connect, Explore and Discover!



Central Bank Anniversary Publications
The Central Bank of Trinidad and Tobago was established on December 12, 1964, 55 years ago. In celebration of this milestone the Bank has published three books that highlight aspects of our history, our art collection and staff members. All publications can be purchased at our Museum. 
 Download Printable Version. Email completed forms to [email protected]

                                        
Our museum was reopened to the public on January 16, 2019.  We are proud of the new design and layout, and assure you that your visit with us will leave you delighted, more knowledgeable, entertained and inspired! View Launch video.
 
The driving force behind the Central Bank Museum is the Bank's commitment to culture and education, and with this in mind, we have created an inviting, open and engaging space that allows visitors to discover and learn about important aspects of our economic and artistic culture and history. Visitors can interact with the technology and artefacts, as well as communicate both in person and virtually with the staff of the Bank.
 
The Museum's new open-plan design is structured on three main areas that focus on topics related to trade, money, banking and currency.
It's YOUR Bank

The Economy, Energy and Diversification

The Art and Science of Money

The Museum's foyer serves as an exhibit space that is used to bring the art collection of the Bank closer to the public through exhibitions, workshops and other related events.
| | |
| --- | --- |
|   | Click our guide to learn more about what you will see on your visit. |

Our Outreach Activities